Knowing obesity
Our obesity books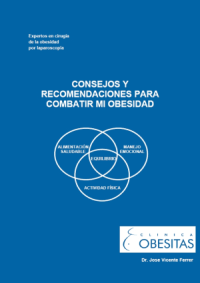 We present for free download our Book of advice and recommendations to combat Obesity.
Some may see in these chapters an "excessive simplicity" and think "I already knew this" or "I've heard it before", and it may be so. Thus, our work has possibly been limited to gathering a series of important and stimulating information, which allows the awareness and correct dimension of the problem of obesity, thereby facilitating its solution.
I would like to thank all the authors who have participated in the preparation of the articles for their selfless effort and dedication, which are the result of the clinical experience they have acquired in their specialty. All the members of the Obesity Clinics team and all the specialties involved, Bariatric Surgeons, Nutritionists and Psychologists, as well as Endoscopists, Sports Doctors and Anesthesiologists who have advised us, participate in the book.
My thanks to all of them.
Dr. Jose Vicente Ferrer
Director of Publication