In Clínicas Obésitas we perform obesity surgeries in the best facilities provided by our hospitals, the Hospital 9 de Octubre in Valencia and the Hospital San Rafael in Madrid.
As a highly specialized team, we use the most advanced technology for the control and treatment of our patients with obesity:
We perform interventions through Mini-Invasive laparoscopy, applying a protocol of anesthesia and mini-invasive surgery, which provide security and a quick recovery.
We use the latest technology in both the field of anaesthesia and surgery, based on the recommendations of the main Scientific Societies, of which we are also active members (ASMBS, IFSO, SECO, EAES, AEC) providing maximum safety and efficiency to the process.
Thanks to our experience and the technology we use, we can apply the "Fast-Track Protocol" of rapid post-operative recovery, with only 24 hours of hospital admission and incorporation into normal life in 7 days.
Learn more about our hospitals where we perform obesity surgeries:
HOSPITAL 9 DE OCTUBRE - VALENCIA - ESPAÑA
A hospital with the best technical and professional resources.
Operating theatres equipped with excellent anaesthesiology and laparoscopic surgery equipment specifically for morbid obesity. We have ICU, Advanced Radiology (MRI, CT) and Interventionist and Interventionist Endoscopy.
We have formed a multidisciplinary medical team specially trained and focused on the management of obese patients. It is made up of: Nursing staff, interventional radiologists, endoscopists, cardiologists, intensivists…
HOSPITAL SAN RAFAEL - MADRID – ESPAÑA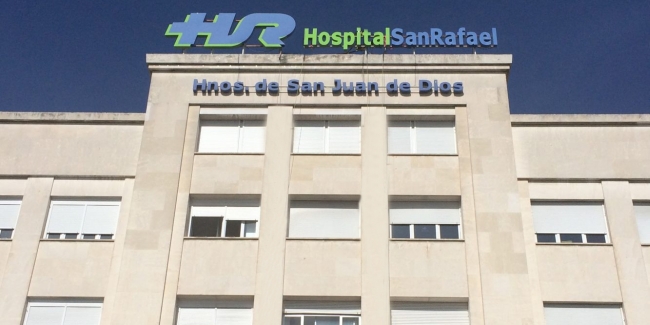 The San Rafael Hospital, is a reference in Madrid, is characterized by a high satisfaction of patients, based on the experience of its professionals and humane treatment and close to them. We have ICU, Advanced Radiology (MRI, CT) and Interventionist and Interventionist Endoscopy. In this hospital we also have high technology operating rooms, as well as the most advanced system for minimally invasive surgery such as the Da Vinci Robot.
We have also formed a multidisciplinary medical team specially trained and focused on the management of obese patients. It is made up of: nursing staff, interventional radiologists, endoscopists, cardiologists, intensivists…